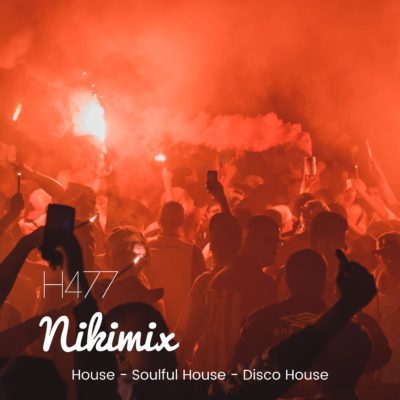 Immerse yourself in a world of pulsating beats and rhythmic grooves with House Sessions H477
a house music radio show expertly mixed by the renowned Nikimix. The music featured in this program will make your heart skip a beat with its vibrant rhythms and rhythmic depth.
A captivating debut with Alexander Som and N.W.N.
The show kicks off with the infectious rhythms of Alexander Som & ELTE's "After Love (Extended Mix)", creating a captivating atmosphere right from the start. It then continues with N.W.N.'s energetic "Don't Stop", which keeps the rhythm going with its irresistible groove.
Mark Knight and Rick Silva on the rise
Then the show hits you with the heavy "Brutal (Extended Mix)" by Mark Knight & Nitro Deluxe, a real house anthem that raises the energy on the dance floor. After this powerful track, Rick Silva & KWTS soothe your senses with the refreshing "Cola On The Beach (Original Mix)", offering the perfect blend of tropical vibes and house beats.
A hypnotic transition with YOURS and Ferreck Dawn
YOURS takes over the mix with "DÓNDE ESTÁ (Extended Mix)", a track that carries a hypnotic rhythm, further enhancing the eclectic atmosphere. It's followed by Ferreck Dawn & Jena's "Better (Extended Mix)", a melodically progressive track that pushes you to get lost in the rhythm.
A journey in sound with Beatsbyhand and DJ Christian B
In the middle of the set, "King Of My Castle (Extended Mix)" by Beatsbyhand & Kali Mija surprises you with its vibrant sound palette, adding a touch of innovation to the show. The mix then dives into DJ Christian B's "Regular Highs (Original Mix)" – a track that takes the audience on a deep sonic journey.
Amplifying the experience with Jay Vegas and Norty Cotto
Keeping up the pace, "One Day (Called Out Of Love Mix)" by Jay Vegas amplifies the experience, followed by the playful "Celia Scat (Norty Cotto Club Mix)" by Norty Cotto & DJ Stingray.
Approaching the end with Mauri Fly and Duwayne Motley
As we approach the end, "Red Tribal 2023 (Silvano Del Gado Remix)" by Mauri Fly & Silvano Del Gado brings an exotic touch to the mix. This track sets the scene for "Keep Talking" by Duwayne Motley & Aleysha Lei, a track that carries a subtle but intense energy.
Conclusion with Nolan and Rachel Adedeji
Finally, "Someday (Earth n Days Remix)" by Nolan & Rachel Adedeji ends the show on a high note,
Tune in and let the spellbinding music of House Sessions
1 Alexander Som, ELTE After Love (Extended Mix)
2 N.W.N. Don't Stop
3 Mark Knight, Nitro Deluxe Brutal (Extended Mix)
4 Rick Silva, KWTS Cola On The Beach (Original Mix)
5 YOURS DÓNDE ESTÁ (Extended Mix)
6 Ferreck Dawn, Jena Better (Extended Mix)
7 Beatsbyhand, Kali Mija King Of My Castle (Extended Mix)
8 DJ Christian B Regular Highs (Original Mix)
9 Jay Vegas One Day (Called Out Of Love Mix)
10 Norty Cotto, DJ Stingray Celia Scat (Norty Cotto Club Mix)
11 Mauri Fly, Silvano Del Gado Red Tribal 2023 (Silvano Del Gado Remix)
12 Duwayne Motley, Aleysha Lei Keep Talking
13 Nolan, Rachel Adedeji Someday (Earth n Days Remix)